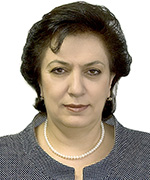 Hranush Hakobyan
RA Minister of Diaspora Affaires
In office since
1 October 2008
Curriculum Vitae
Date and Place of Birth
April 12, 1954, Sarukhan village of Gegharkunik Marz

Education
1970 graduated from secondary school N1 of Gavar with gold medal
1975 graduated from the YSU Applied Mathematics Department
1989 graduated from the Moscow Academy of Political Sciences honors diploma
1994 graduated from the YSU Law Department with honors diploma, Doctor-Professor of Law

Career Experience
1975-1983, Professor, Department of Applied Mathematics of Yerevan State University,
1978-1983, Deputy Secretary, Secretary of the YSU Komsomol Committee
1983-1985, Secretary of the Komsomol of Armenia
1985-1990, First Secretary of the Komsomol of Armenia, elected a member of the Komsomol Central Committee (Moscow)
1986-1990, Member of the Supreme Council of the Armenian SSR, member of the Presidium of the Supreme Council
1990-1995, Member of the Supreme Council and the National Assembly of the Republic of Armenia, Deputy Chairwoman of the Standing Committee on Social, Healthcare and Environmental Affairs
1995-1996, Chairwoman of the same committee
1995-1997, Deputy chairwoman of CIS inter-parliamentary assembly social affairs commission
1996-1998, Minister of Social Security
1996-2008, Member, Head of the Armenian delegation to the international congress of the inter-parliamentary Union, member of the women's affairs coordinating council
1999-2003, member and deputy head of EU-Armenia Inter-Parliamentary Commission
June 2008, Head of the State Committee on Diaspora Affaires by the Foreign Relations Ministry
October 2008, Minister of Diaspora
On June 16, 2012, re-appointed to the post of Minister of Diaspora.
A presidential decree was issued on May 8, 2013 to re-appoint him to Minister of Diaspora.

Other Information
Author of 6 monographs and over 40 research papers
Trustee of "Hayastan" All-Armenian Fund and several other foundations, founder of US-Armenia Health Care Center, Chair of the Armenian Women's Union, member of YSU, YBU and SAU academic boards, founder of Armenia's Youth Parliament. In 2012, she was elected SAU Board President.
Holder of a number of State and government decorations, medals and awards, senior reader at the Public Administration Academy and the State University of Gavar, recognized as Woman of the Year, MP of the Year and Political Figure of the Year.
2008, Rank of Ambassador Extraordinary and Plenipotentiary of the Republic of Armenia, granted under Republic of Armenia presidential decree, "Order of Merit" awarded by the President of the French Republic.
In 2011, Awarded Mkhitar Gosh medal under a presidential decree, holder of several other government-department awards.
Party Membership
Republican Party of Armenia, RPA Executive Board member