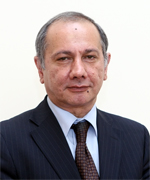 RA Minister of Economy
In office since
8 May 2013
Ministry of Economy
The Republic of Armenia Ministry of Economy is a republican body of executive authority, which elaborates the economic development policies of the Republic of Armenia Government.
First Deputy:
Karine Minasyan

Deputy Ministers:
Garnik Badalyan
Ara Petrossyan
Garegin Melkonyan
Tigran Harutyunyan
Address:
5 M. Mkrtchyan street, Yerevan
Tel.:
52-61-34
E-mail:

Separate Divisions and State Agencies
Agency for Licensing and Permits
Head: Armen Nalbandyan
The Licensing and Permits Agency provides services in the field of licenses, permits, Kimberly certificates, hotel facility qualifications and conclusions. The agency grants licenses to trade organizations covering trading areas, production of measurement units, control of exports of controlled goods and controlled transfer of intangible values and permissions over dual-purpose goods transit through the territory of the Republic of Armenia. It also issue findings on the results of such processed goods as are imported under the temporary import (export) customs regime.
RA Accreditation Agency
Head: Nune Mkrtchyan
The Accreditation Agency provides services in the field of accreditation, conformity assessment, accreditation functions in ensuring the uniformity of measurements, international, regional and international organizations accredited to the agency, as well as creating conditions for mutual recognition of accreditation, conformity assessment, testing process to ensure uniformity of the producers and increase consumer confidence, etc.
RA Intellectual Property Agency
Head: Armen Azizyan
The Intellectual Property Agency provides services in the field of intellectual property related with the legal protection of intellectual property associated with the operation of the legislation in the field of intellectual property. It provides training, support and recruitment of the Republic of Armenia patents etc.
RA State Inspectorate on Market and Consumer Interests Protection
Head: Levon Khalikyan
The Market and Consumer Protection State Inspectorate implements public control activities n the field of standardization, measurement uniformity, conformity assessment and market surveillance state, as well as in the area of consumer protection acting on behalf of the Republic of Armenia: In other words, the Inspectorate provides services in search of safety, high quality of consumer goods and defined rules of trade and industry, and accurate means of measuring the performance of the control as well as the protection of rights and interests of consumers.